Content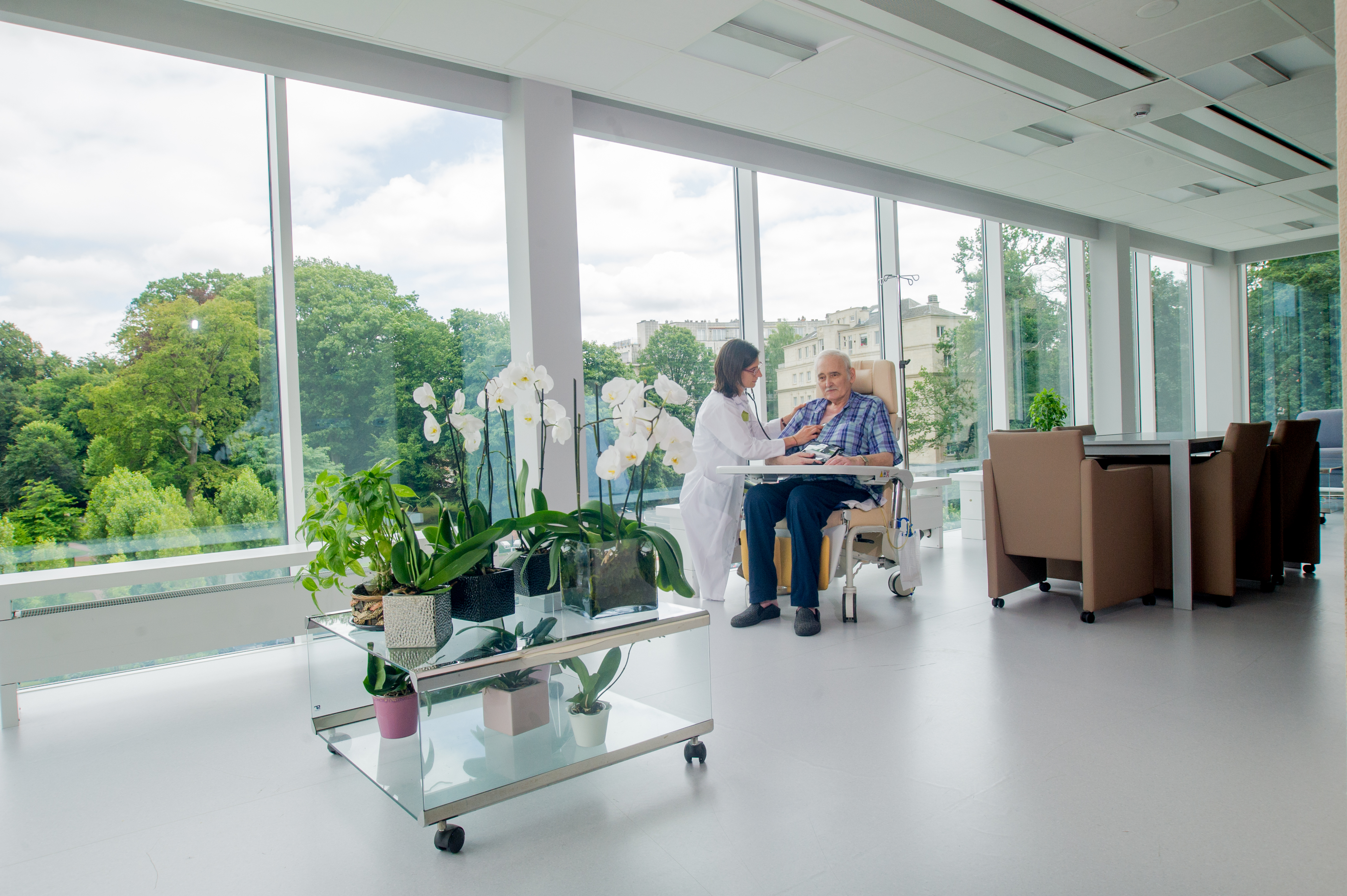 PALLIATIVE CARE
HOW DOES PALLIATIVE CARE WORK AT EUROPE HOSPITALS AND WHAT ARE ITS OBJECTIVES?
Providing personalised and tailored care to patients suffering from incurable illnesses and those who are at the end of their lives, giving the best guidance and support to them and their families. This is our shared goal, which is delivered by our healthcare professionals and volunteers. Together, our wish is to help our patients to live out their last days in dignity and in keeping with their beliefs. Together, with the help of their loved ones, we strive to support them day by day in their suffering, struggles and anxiety. The fight against pain is an urgent priority. Thankfully, current therapeutic means enable us to relieve pain for the vast majority of patients.
HOW TO REQUEST ADMISSION?
A request to be admitted to our department is submitted along with the patient's medical records by the family doctor or hospital doctor, with the patient's prior agreement. Any request is then submitted to the palliative care doctor. The department makes every effort to take account of situations of distress as best as possible.
Exceptional circumstances are considered, for example:
Too serious and complex a clinical situation with symptoms too difficult for the palliative care team at home to manage. Once the patient's condition improves, plans will be made to return home.

Extreme fatigue or burnout for the family. In these cases a stay in the palliative care unit is most often temporary.
What exactly to do:
Submit the attending doctor's request by email, fax or via the electronic file to the addresses below:

St-Elisabeth site unit:

St-Michel site unit:
In case of emergency, doctors may make direct contact with their colleagues in the palliative care unit on the following number:
St-Elisabeth site unit: Tel : +32 (0)2 614 29 42

St-Michel site unit: Tel : +32 (0)2 614 39 40
WHAT IS THE SETUP LIKE AT OUR PALLIATIVE CARE UNITS?
The intention of our two specialised units is to offer living conditions that are as close as possible to those at home, and they strive to ensure the highest level of comfort and respect for patients' privacy. They both work in the same way with similar care equipment.
Equipment: A lounge with kitchenette is available to visitors with a view to providing a shared space and a family feeling for meals together, festivities, etc.

How they work: The units are intended to be very welcoming to families and loved ones. Both children and adults are welcome. Visiting hours are flexible and adapted to the patient.
ABOUT THE TEAM
Europe Hospitals comprise two palliative care units accredited by the public health service:
The St-Elisabeth site in Uccle (U42), which has 12 beds in 11 rooms within unit 42. The contact number is 02-614 29 42.

Doctor in charge: Dr Vincent Vandenhaute

The unit at the St-Michel site in Etterbeek (-1G), which has 8 beds in 8 rooms. The contact number is 02-614 39 40.

Doctor in charge: Dr Claudia Haba
The multidisciplinary teams include:
Doctors specialised in palliative care:

Dr Vincent Vandenhaute, Head of service

Dr Claudia Haba

Dr Isabelle De Bock

Dr Kristl Dobbelaere

Nurses trained in palliative care

Physiotherapists, to uphold the highest level of autonomy for our patients

Psychologists, to provide more specific care to patients and their loved ones

A dietician to tailor meals to the tastes and wishes of patients

A social worker

Volunteers who have all received prior training in listening to and caring for patients

A pastoral team for patients who wish to use it, as well as the opportunity to call upon representatives of each of the major religions

Help with comfort and aesthetics are offered upon request