Hotlines
Text
Dear physicians,
We have provided hotlines which are specially reserved for you. These telephone numbers grant you priority when calling our secretariats. Should the line be closed or should the waiting time be longer than 40 seconds, you will hear a message warning you of this. Our staff will make sure to call you back as soon as possible.
We thank you for using this list appropriately and ask that you not pass it on to your patients.
wallpaper
We designed a wallpaper that contains all hotlines in order to make it easier for you.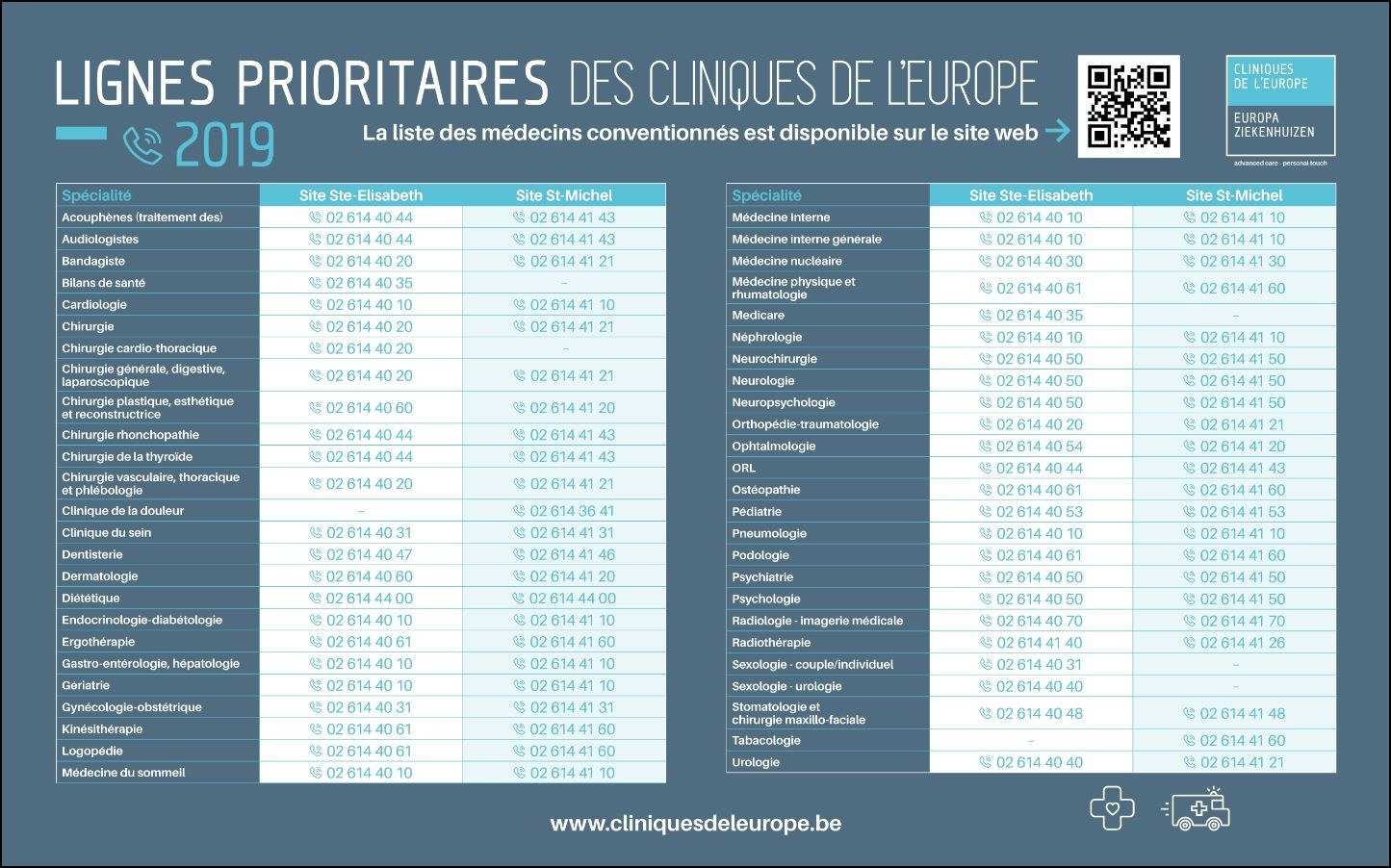 You can open the wallpaper in French (click here) or in Dutch (click here).
| | | |
| --- | --- | --- |
| Specialties | St-Elisabeth site | St-Michel site |
| Audiologists | 02-614 40 44 | 02-614 4143 |
| Bandagist | 02-614 40 20 | 02-614 41 21 |
| Breast Clinic | 02-614 40 31 | 02-614 41 31 |
| Cardiology | 02-614 40 10 | 02-614 41 10 |
| Cardiothoracic surgery | 02-614 40 20 | - |
| Dentistry | 02-614 40 47 | 02-614 41 46 |
| Dermatology | 02-614 40 60 | 02-614 41 20 |
| Dietetic department | 02-614 44 00 | 02-614 44 00 |
| Endocrinology - diabetology | 02-614 40 10 | 02-614 41 10 |
| ENT | 02-614 40 44 | 02-614 41 43 |
| Gastro-enterology, hepatology | 02-614 40 10 | 02-614 41 10 |
| General and abdominal surgery | 02-614 40 20 | 02-614 41 21 |
| General internal medicine | 02-614 40 10 | 02-614 41 10 |
| Geriatrics | 02-614 40 10 | 02-614 41 10 |
| Gynaecology - obstetrics | 02-614 40 31 | 02-614 41 31 |
| Internal medicine | 02-614 40 10 | 02-614 41 10 |
| Medical check-up | 02-614 40 35 | - |
| Medicare | 02-614 40 35 | - |
| Nephrology | 02-614 40 10 | 02-614 41 10 |
| Neurology | 02-614 40 50 | 02-614 41 50 |
| Neuropsychology | 02-614 40 50 | 02-614 41 50 |
| Neurosurgery | 02-614 40 50 | 02-614 41 50 |
| Nuclear medicine | 02-614 40 30 | 02-614 41 30 |
| Occupational therapy | 02-614 40 61 | 02-614 41 60 |
| Ophtalmology | 02-614 40 54 | 02-614 41 20 |
| Orthopaedics - traumatology | 02-614 40 20 | 02-614 41 21 |
| Osteopathy | 02-614 40 61 | 02-614 41 60 |
| Paediatrics | 02-614 40 53 | 02-614 41 53 |
| Pain Clinic | - | 02-614 36 41 |
| Plastic, esthetic and reconstructive surgery | 02-614 40 60 | 02-614 41 20 |
| Physical medicine and rheumatology | 02-614 40 61 | 02-614 41 60 |
| Physiotherapy | 02-614 40 61 | 02-614 41 60 |
| Pneumology | 02-614 40 10 | 02-614 41 10 |
| Podiatry | 02-614 40 61 | 02-614 41 60 |
| Psychiatry | 02-614 40 50 | 02-614 41 50 |
| Psychology | 02-614 40 50 | 02-614 41 50 |
| Radiology - medical imaging | 02-614 40 70 | 02-614 41 70 |
| Radiotherapy | 02-614 41 40 | 02-614 41 26 |
| Ronchopathy surgery | 02-614 40 44 | 02-614 41 43 |
| Sexology - couple/individual | 02-614 40 31 | - |
| Sexology - urology | 02-614 40 40 | - |
| Sleep medicine | 02-614 40 10 | 02-614 41 10 |
| Speech therapy | 02-614 40 61 | 02-614 41 60 |
| Stomatology and maxillo-facial surgery | 02-614 40 48 | 02-614 41 48 |
| Surgery | 02-614 40 20 | 02-614 41 21 |
| Tabaccology | - | 02-614 41 60 |
| Tinnitus (treatment of) | 02-614 40 44 | 02-614 41 43 |
| Thyroid surgery | 02-614 40 44 | 02-614 41 43 |
| Urology | 02-614 40 40 | 02-614 41 21 |
| Vascular surgery | 02-614 40 20 | 02-614 41 21 |