Screening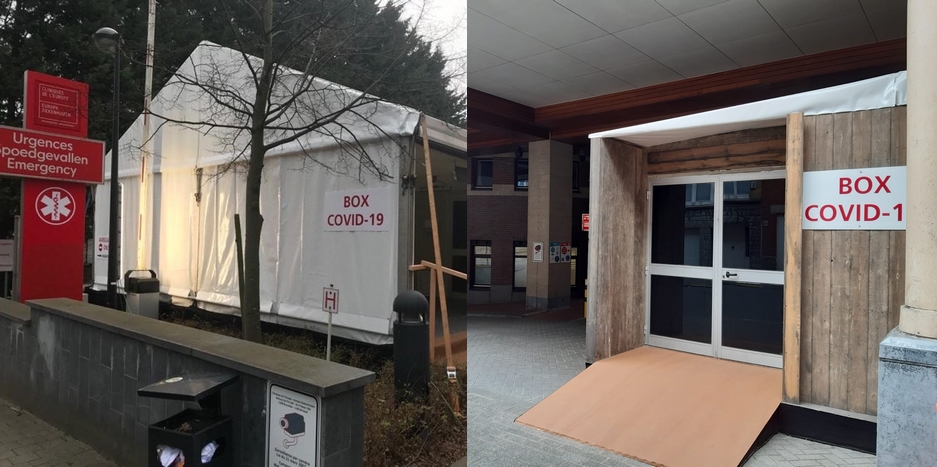 Last update: 03/07/2020
Box COVID-19
The Boxes COVID-19 are tents placed next to the Emergency Department of the Europe Hospitals, on the two hospital sites. The boxes accommodate patients potentially infected with the COVID-19 coronavirus outside the hospital, via a specific patient pathway.
The patients that can be presented are patients who have been questioned by their general practitioner and who are referred by him/her with the "e-form": a smear is taken, without examination or delivery of certificates. These are carried out by the GP.
Other patients are advised to consult a general practitioner first.
The COVID-19 box is open on Monday, Tuesday and Thursday from 10:00 to 16:30. It will be closed from 12/07/2020.
Drive-in / "pre-hospitalisation screening"
The name "Drive-in" has been changed to "Pre-hospitalisation screening". Indeed, a patient does not necessarily have to come by car, but also by other means of transport such as bicycle or on foot.
It is intended for patients of the Europe Hospitals, by prescription only and concerns:
Pregnant women approaching the 38th week of pregnancy and scheduled caesarean sections
Any patient with a scheduled hospitalization within 72 hours of admission. Any patient who has already had a ct-scan within 72 hours prior to admission, unless the doctor considers the ct-scan to be doubtful, he or she will invite the patient to come in for a smear.
Screening is prescribed by :
The gynecologist in charge of the pregnant woman;
The physician performing the scheduled admission of the patient.
Screening is by appointment only:
The patient calls the laboratory between 7:30 am and 5 pm on working days (STE: 02/614.27.80 or STM 02/614.37.80) to make an appointment
Location
Some patients circulating within the hospital for a consultation or examination may have to go to the pre-hospitalisation COVID-19 screening. It is important to systematically follow the planned route, via road signs, located outside the hospital and not via the hospital corridors.
As of Monday, July 6, systematic screening will be discontinued at our two sites for scheduled hospitalizations, One Day, the Sleep Lab, pregnant women at the end of pregnancy, etc. However, all patients entering hospitalization will be required to complete a questionnaire to detect suspected COVID-19 cases.
Dépistage des patients qui partent en vacances
Sur base des recommandations de Sciensano, les patients qui partent en vacances ont le droit de demander un test PCR COVID-19 qui sera réalisé par notre Laboratoire. Ces tests ne seront cependant pas remboursés et facturés 46,81 € au patient.
Concrètement :
- le patient se présente au Laboratoire avec ou sans demande de son médecin traitant. La prescription n'est pas obligatoire puisque cela n'est pas remboursé par l'INAMI.
- Les patients peuvent se rendre sans rendez-vous au Laboratoire de 14h à 16h, du lundi au vendredi et ce, sur chacun de nos sites hospitaliers
Localisation
Site St-Michel : Le laboratoire se trouve à l'entrée du site, juste avant l'accueil
Site Ste-Elisabeth : Le laboratoire se trouve à l'étage -1
ATTENTION : Le dépistage ne se fait que pour les pays nécessitant un certificat PCR. La liste de ces pays est disponible ici.