Presentation unit Private Plus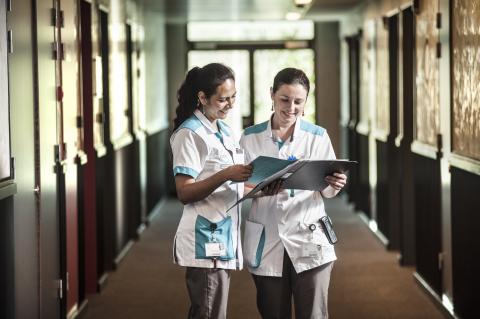 Have you heard about the private rooms « Private Plus » of the Europe Hospitals?
The unit is located on the 4th floor at the St-Elisabeth site and welcomes you in a hotel atmosphere and offers elegant bedrooms. Every room pays tribute to a painter thanks to the wall decoration.
Where possible, we do everything we can to meet your various requirements and adapt the rooms to your needs. Furthermore, in our multilingual team we can always find the best person to ensure effective communication between our international patients and our care staff.
Do you wish to work while you are in hospital?
The care unit has a Wi-Fi network, so you can easily work on your PC from your hospital room. In your 'Private Plus' room, an extra meeting table can also be set up. In your 'Private Plus Suite', the seating area can be used as a meeting room.
Do you desire greater tranquillity?
The healthcare team ensure that they provide you with the care you need while respecting your need for tranquillity. Do not hesitate to express your wishes to them.
Do you wish to preserve your anonymity?
Professional secrecy is mandatory throughout our entire institution. On request, we will also preserve your anonymity. In addition, all our rooms are secured by means of badge access.
Please click here for more information about the unit and the rates.
Please click here to open the brochure "Private Plus".