Magseed - Sentimag: Trust meets convenience, for clinicians and patients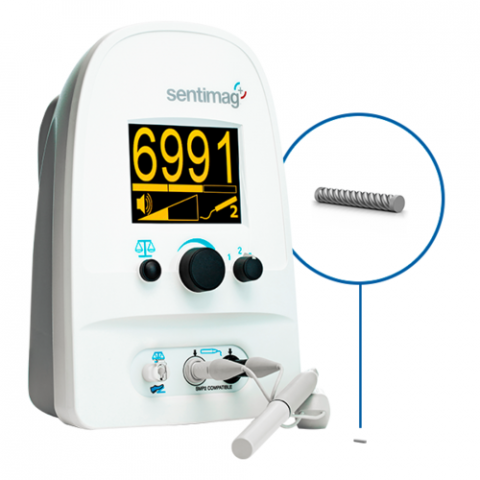 Magseed-Sentimag locates non-tangible breast tumours with a magnetic seed and a probe. 
The Breast Clinic of the Europe Hospitals is the first brussels Breast Clinic to use this new technique.
Each year, about 11,000 women are confronted with the diagnosis of breast cancer in our country. Through better screening techniques and greater awareness among patients, these breast tumours are found at an increasingly early stage. Half of these patients are unable to feel the tumour at diagnosis. For the breast surgeon, it was not always easy to find the exact location of the tumour during the operation. In these cases of imperceptible tumours, the tumour was indicated under X-ray guidance or ultrasound pre-operatively by the radiology department using traditional marker methods (harpoon, clip, carbon, etc.). However, these methods were often insufficient and unpleasant for the patient.
Magseed is a marker specifically designed to overcome the limitations of other markers. The magnetic marker provides oncological safety, accurate tissue localisation, a flexible treatment plan and higher patient satisfaction. 
Magseed is used with Sentimag, a sensitive magnetic detector that locates the seed. The marker can be placed at any time before surgery, and then during surgery the surgeon uses the probe of the Sentimag system to accurately locate the Magseed.
Doctor Sonia Vanderlinden, breast surgeon and co-ordinator of the Breast Clinic at the Europe Hospitals in Brussels, describes this procedure as easy and reliable. 'It shows me precisely the location of the non-tangible lesion. Before, we used carbon, which was often found around the lesion and sometimes left a trace on the skin. Due to the distance calculation by the Sentimag system, I can locate and remove the tumour very precisely.'
Patients who were treated with this technique said that the process was painless and smooth.
Doctor Maxime Bersou of the radiology team is also very pleased: "The Magseed is quick and easy to apply, the procedure is painless and less time-consuming for the patient and radiologist. The Magseed placement is accurate and easier than any other technique'.
The Magseed also proves to be useful in more advanced tumours. Affected lymph glands can also be indicated pre-operatively. Also when a neo-adjuvant therapy (a systemic therapy that starts before the operation, such as chemotherapy or hormonal therapy) has to be done, a Magseed can already be placed. This also greatly facilitates the operation afterwards.